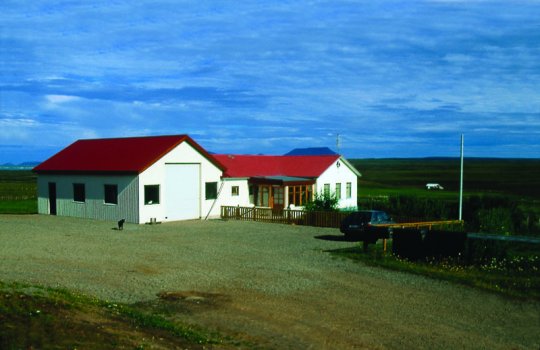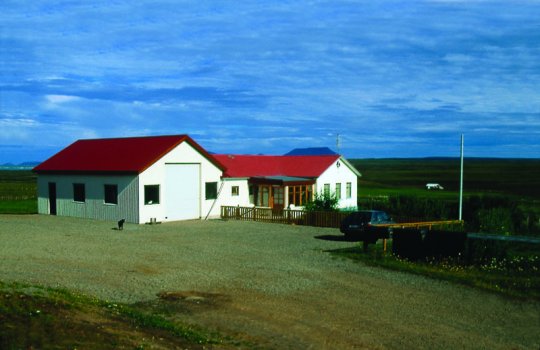 SYÐRA-ÁLAND (Southerly On-Land), Þistilfjörður (Thistle Fjord district)
Current occupants: Ólafur B Vigfússon and Karen Konráðsdóttir
The farmers at SYÐRA-ÁLAND participate in the following national initiatives:
Quality managed sheep farming (Gæðastýrð sauðfjárræktun)

Farmers cultivate the land (Bændur græða landið)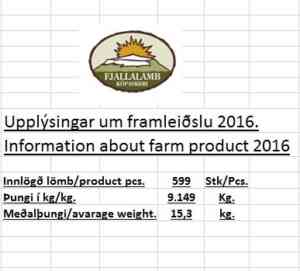 Ólafur and Karen have pursued farming in SYÐRA-ÁLAND (Southerly On-Land), previously called FREMRA-ÁLAND (Anterior On-Land), since 1997.
The approximately 4 km long secondary road from the district highway road 85 to the farm runs along the north side of the ridge of SKÓGARÁS (Forest Ridge). The residence house sits on a relatively high gravel bed and the sheepsheds and other outhouses a short stretch north of there, around 600-700 m from the river bank of HÖLKNÁ (Holkn River – translation of "Hölkn"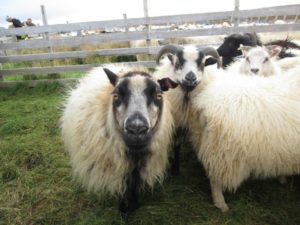 not available). Interchanging gravel beds, heathlands and marshes are found south of the farm and an extensive area with dry but well grown bushy heathlands to the west, running uninterrupted to the bank of river SANDÁ (Sandy River). Besides being rich of berries, this area provides the best winter grazing fields of the farm and pasture-houses were previously operated here, in the valley of HÚSADALUR (House Valley). Shortly west of the farm buildings is an extensive area of recently reclamated land that has been cultivated into hayfields. A dewatered marsh is found south of the farm buildings, partly cultivated into hayfields.
The land belonging to SYÐRA-ÁLAND stretches across the spit of ÁLANDSTUNGA (On-Land Spit) north of the hummock of YTRI-HÆÐAÞÚFA (Outer-Hillock Hummock) and to the south alongside river HÖLKNÁ to the valley of MÖNGUDALUR (Manga´s Valley). This extensive tract of land is considered expedient for sheep grazing. There is a knowledge of two abandoned farms on the land belonging to SYÐRA-ÁLAND, the socalled KERASTAÐIR (Maar Place) and NÝSTAÐIR (New Place). Also, LEIRLÆKUR (Pelitic Rivulet) is considered a tenancy piece of land owned by the farm SYÐRA-ÁLAND in 1861.
Perquisites belonging to the farm include fishing rights in rivers HÖLKNÁ (Holkn River – translation of "Hölkn" not available) and SANDÁ (Sandy River).
Photo album.
Here are photos of the farm and from the family who lives there.
Here you can send a message to farm.