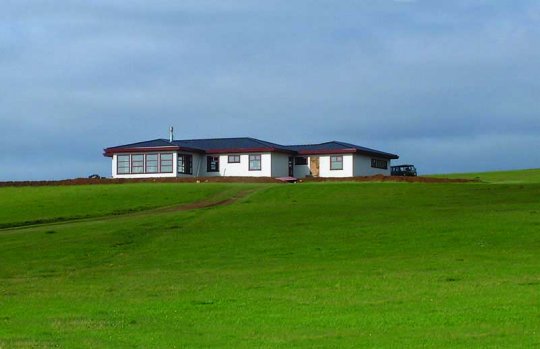 SANDFELLSHAGI II (Sandy Mountain Meadow II), ÖXARFJÖRÐUR  (Axe Fjord district)
Current occupants: Gunnar Björnsson and Anna Englund
The farm was listed amongst the highest rated farms in Iceland for the production year 2015 by Rannsóknamiðstöð landbúnaðarins (The Agricultural Research Centre).
The farmers at SANDFELLSHAGI participate in the following national initiatives and projects:
Quality managed sheep farming (Gæðastýrð sauðfjárræktun)

Farmers cultivate the land (Bændur græða landið)

Reclamation under the auspices of the Land-remidy fund (Uppgræðsla á vegum Landabótasjóðs)

A reforestation project (Skógræktarverkefni)
Gunnar and Anna have pursued farming together in SANDFELLSHAGI II (Sandy Mountain Meadow II) since 2004 and Gunnar since 1991
The two farms at SANDFELLSHAGI (I and II) are situated close to the foot of mountain SANDFELL (Sandy Mountain). A groundwater river that originates from springs up in the west side of the mountain runs alongside the hayfields south of the farms´ buildings. High quality drinking water gushes through pipes from the springs down to the farms. A panoramic view is from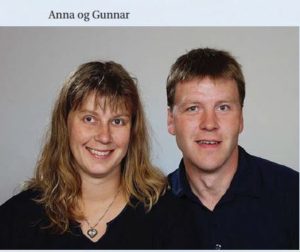 both farms to all directons except to the east and north-east where mountains SANDFELL (Sandy Mountain) and ÞVERÁRHYRNA (Tributary River Process) tower over the farms. The location and environment in SANDFELLSHAGI II is detailed further in the description for SANDFELLSHAGI I/URÐIR ehf.
It has commonly been crowded in SANDFELLSHAGI throughout the years. The large farmilies living at both farms from the beginning of the 20th century affected the social life in the district in many ways. Previously the postroad route crossed the mountain road of ÖXARFJARÐARHEIÐI (Axe Fjord Heath), with resting and horse changing commonly practised at SANDFELLSHAGI. Travellers often accompanied the mailman and needed resting and fresh horses as well. The neighbours quickly learned of wanderings in the district and usually showed up to hear tidings and meet the guests while resting in SANDFELLSHAGI. The farm therefore became the centre of news and decisionmaking of gaiety in the district.
In year 2000, the farmers at SANDFELLSHAGI II built a 75 kw hydroelectric power plant that provides energy for the three residence houses at SANDFELLSHAGI II. Electricity from the power plant is also sold to the farmers at SANDFELLSHAGI I according to a specific agreement thereof. A considerable effort in reclamation of gravel beds has been carried out on the farm during the last decades.
Photo album.
Here are photos of the farm and from the family who lives there.
Here you can send a message to farm.