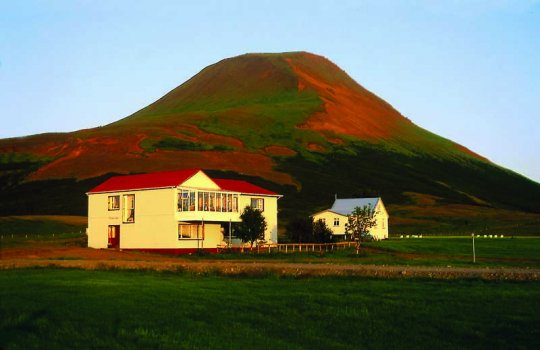 HAFRAFELLSTUNGA (Goat-Buck Mountain Spit), Öxarfjörður (Axe Fjord district)
Current occupants: Karl S Björnsson, Bjarki Fannar Karlsson and Eyrún Ösp Skúladóttir
The farm was listed amongst the highest rated farms in Iceland for the production year 2015 by Rannsóknamiðstöð landbúnaðarins (The Agricultural Research Centre).
The farmers in HAFRAFELLSTUNGA participate in the following national initiatives and projects:
Quality managed sheep farming (Gæðastýrð sauðfjárræktun)

Farmers cultivate the land (Bændur græða landið)

Reclamation under the auspices of the Land-remidy fund (Uppgræðsla á vegum Landabótasjóðs)
Karl and his family have pursued farming at HAFRAFELLSTUNGA (Goat-Buck Mountain Spit) since 1963. The next generation with his son Bjarki and Eyrún have now taken over the operation.
The residence buildings and outhouses are situated on the bank of the small groundwater river of TUNGUÁ (Spit River), which joins river SMJÖRHÓLSÁ (Butter Hillock River) a bit further to the south. When joinging river GILSBAKKAÁ (Ravine Edge River), together the rivers make river BRUNNÁ (Spring River) and together the river beds create a spit which the denomination of the farm is believed to derive from.
HAFRAFELLSTUNGA (Goat-Buck Mountain Spit) is a settlement homestead and a socalled "half-church" (with reduced divine services obliged in comparison with an ordinary church) was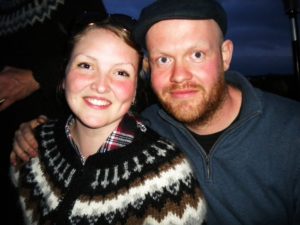 located on the land for an extended period. The farm owns extensive tracts of land carrying good grazing grounds. Lava from craters located on the notherly side of the hillocks of HÓLSSANDUR (Sandy Hillocks) streamed north and west of mountain HAFRAFELL (Goat-Buck Mountain) during earlier centuries and only shallow layers of soils are found in the area where the residence buildings and outhouses are situated. Ravines and lava rocks are widely distributed over the area and make reclamation of hayfields quite difficult.
Mountain HAFRAFELL (Goat-Buck Mountain) provides an enjoyable countenance to the farm but limits panoramic view from the farm to the bay of ÖXARFJORÐUR (Axe Fjord Bay) and farms located in the area close to the seashore both east and west of the glacial river JÖKULSÁ Á FJÖLLUM (Glacial Mountain River).
A hydroelectric powerplant in river TUNGUÁ (Spit River) provides electric power for the farm. A considerable effort in reclamation of gravel beds has been carried out on the farm during the last decades.
Photo album.
Here are photos of the farm and from the family who lives there.
Here you can send a message to farm.