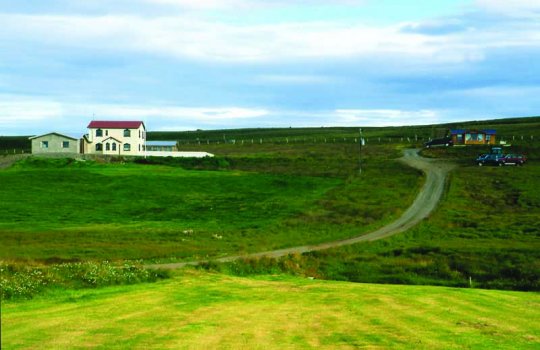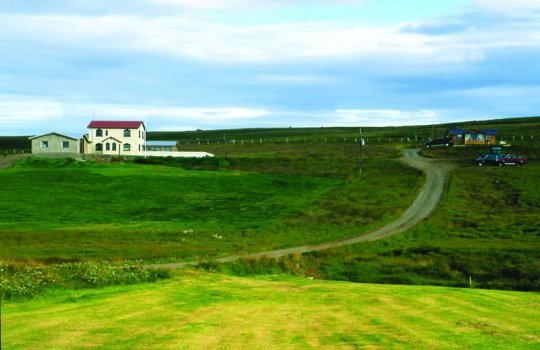 YTRA-ÁLAND (Outer-Riverland), ÞISTILFJÖRÐUR (Thistle Fjord district)
Current occupants: Ragnar Skúlason and Úlfhildur Ída Helgadóttir
The farmers at YTRA-ÁLAND participate in the following national initiatives:
Quality managed sheep farming (Gæðastýrð sauðfjárræktun)

Farmers cultivate the land (Bændur græða landið)
The curret farmers have pursued farming at YTRA-ÁLAND (Outer-Riverland) since 2010.
The farm is situated in the north-west side of a ridge called BÆJARÁS (Farm Ridge) or ÁLANDSÁS (Riverland Ridge) which reaches approximately 100 m above the sealevel. A panoramic view is from the top of the ridge. A rocky ridge stretches from the ridge all the way to the coast where it forms a small peninsula called KÁLFSNES (Calf Peninsula). The peninsula protects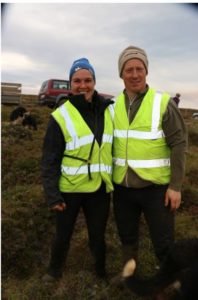 from the heavy waves of the North Atlatic and provides shelter in small bays on each side. Sheepsheds are situated close to the shore west of the peninsula and extensive hayfields stretch from there all the way to river SANDÁ (Sandy River). South-west of the farm´s buildings is an extensive area of dewatered marshes that have been cultivated to hayfields.
The farm owns the land stretching between rivers SANDÁ (Sandy River) and HÖLKNÁ (Holkn River – translation of "Hölkn" not available), from there through the west side of a landmark called YTRI-HÆÐAÞÚFA (Outer-Hillock Hummock) to the south and towards the the east side of the canyon of SYÐRI-GLJÚFUR (Southerly Canyon). Also belonging to the farm is the land of the deserted farm HAFURSSTAÐIR (Goat-Buck´s Place). The fertile grounds and generous seaweed grazing on the shore make the farm of YTRA-ÁLAND well suited for sheep farming. Pasture-houses were previously kept in the valley of BJARNADALUR (Bjarni´s Valley) and sheep shelters in an area called AUSTURKRÓKUR (Easterly Corner). Other prequisites include driftwood in the area between the river mouths and fishing rights in both SANDÁ (Sandy River) and HÖLKNÁ (Holkn River – translation of "Hölkn" not available). Sheep farming is pursued at YTRA-ÁLAND and tourist services have been operated at the farm since 1992.
Photo album.
Here are photos of the farm and from the family who lives there.
Here you can send a message to farm.