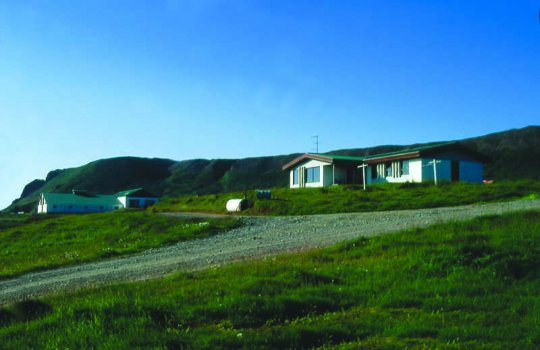 NÚPUR (Crag), Öxarfjörður (Axe Fjord district)
Current occupants: Jón Ingimundarson and Björg Guðmundsdóttir
The farmers at NÚPUR participate in the following national initiatives:
Quality managed sheep farming (Gæðastýrð sauðfjárræktun)

Farmers cultivate the land (Bændur græða landið)
Jón and Björg have pursued farming at NÚPUR (Crag) since 1976.
The farm is situated on the south side of the crag ÖXARNÚPUR (Axe Fjord Crag), east of the district highway road 85. River BRUNNÁ (Spring River) runs alongside the highway road on the west side where it spreads widely on the sandbars. The residence houses and outhouses on the farm are situated in a sloping inclination a short distance from the steep hillside of the crag. The relatively narrow stripe of lowland between river BRUNNÁ and the crag ÖXARNÚPUR was previously utilized as hayfields but serves today as pastures for sheeps and horses.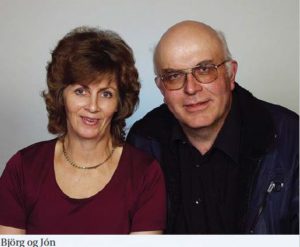 South of the farm are heatlands well suited for cultivation of hayfields.
A panoramic view is from NÚPUR to the south-west over the fjord of ÖXARFJÖRÐUR (Axe Fjord) on the east side of the peninsula of TJÖRNES (Spear Peninsula).
Various perquisites have been counted to the merits of the farm, including driftwood and trout fishing which both have deteriorated though the years. NÚPUR has however been considered amongst the best farms in the district, mainly due to high quality of the land for cultivation and good grazing areas from early spring until late autumn in the large marshes of NÚPSMÝRI (Crag Marshes).
Photo album.
Here are photos of the farm and from the family who lives there.
Here you can send a message to farm.